The"Sunrise" cottages  were designed and built with escape in mind. We have taken care to include all that you would need for that perfect get away. This ever-evolving Mecca of tranquility wraps your stay's activities in rest and rejuvenation.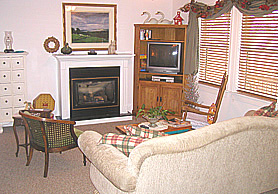 From the porch of tranquility, overlooking a lawn of emerald green, back dropped with a line of cedar trees and topped with a limited view of the mountains, to a fully equipped bathroom, complete with Jacuzzi tub, your rest will be an experience to repeat.
We offer a queen bed, flanked with reading lamps in its own sleeping nook for your sleeping pleasure. In the amply appointed sitting room there is a gas-log fireplace, a full couch and chairs. Topped off with cable TV/VCR/DVD, which can be viewed from the bed, for your enjoyment and entertainment.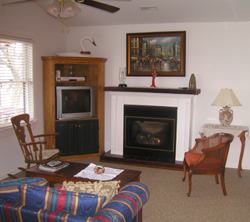 The snack kitchen, with its cozy table for two, is equipped with a microwave oven, coffee and or tea brewer, refrigerator and sink for your light culinary pursuits.
All of the above coupled with our famous "skip-ah-lunch" breakfast, in the main house, combines to give you the ultimate Shenandoah Valley romantic get away.